Even though many of us took the necessary steps to limit the spread of COVID-19 during Thanksgiving, another set of holidays is on the horizon, and many people are already wondering how they should approach their Hanukkah, Christmas, Kwanzaa, and New Year's celebrations. Here's what we recommend to keep yourself and your loved ones safe through the rest of the holiday season.
Avoid Traveling If You Can
We understand that none of this is easy and know that being away from family and friends, especially during the holidays, can take an emotional toll on people. But one of the best ways you can do your part in preventing the spread of COVID-19 this holiday season is to avoid getting on an airplane or driving across the country to visit loved ones.
If you're thinking seriously about traveling during the holidays, these are some questions you should ask yourself first:
Am I or someone I will be visiting at

increased risk for getting very sick

from COVID-19?

Are case numbers on the rise in my community or at my destination?

Will it be difficult to stay least six feet apart from people as I travel?

Does my home state or the state I'm traveling to have any active restrictions for travelers?
An answer of "yes" to any of these questions means that you may want to reconsider traveling at this time. Regardless, if you do decide to travel for the holidays, always wear a mask in public settings, stay at least six feet apart from other people who you don't live with, and wash your hands frequently.
Maintain Physical Distance from Those Who Don't Live with You
Even if you're not traveling across the country for the holidays, it's important to be mindful of exposing yourself to other people you don't live with if you're planning on spending time together during the holidays. The Centers for Disease Control and Prevention (CDC) recommends taking the following precautions for in-person gatherings:
Maintain a six-foot distance between yourself and people you don't live with whenever possible

Improve ventilation in indoor spaces by opening windows and doors as weather allows

Clean and disinfect frequently touched surfaces around the house

If sharing food, consider single-use utensils, plates, condiments, etc.
Get a Flu Shot
While everyone anxiously waits for a publicly available COVID-19 vaccine, you can get another vaccine right now that can play a crucial role in protecting yourself, those around, and the healthcare system at large. 
The seasonal flu vaccine won't directly protect you from COVID-19, but it can reduce your risk for contracting the flu, which means you're less likely to have to visit a doctor's office, urgent care, or the hospital this holiday season. Similarly, the more people who get the flu shot, the less likely it is for the flu to spread among our community as a whole. And as we — like hospitals all across the country — continue to grapple with treating an influx of new patients with COVID-19, we're forced to stretch resources further when cases of influenza are on the rise, so it's never been more important to get vaccinated.

Wear the Right Kind of Mask — and Wear It Properly
The CDC recommends that everyone over the age of two wears a mask to help prevent the spread of COVID-19 this holiday season. But not all masks are created equal, and the CDC notes that your mask should:
Have two or more layers of washable, breathable fabric

Completely cover your nose and mouth

Fit snugly against the sides of your face and don't have gaps
More advanced masks such as N95 respirators are likely to provide even more protection; however, the CDC recommends against wearing masks intended for healthcare workers to ensure these supplies are available for those who need it most.
How you wear a mask is just as important as choosing the appropriate face covering. You should always wear a mask that covers your mouth and your nose, and it should be secured under your chin for maximum protection. Here's a handy graphic that shows you how not to wear a mask: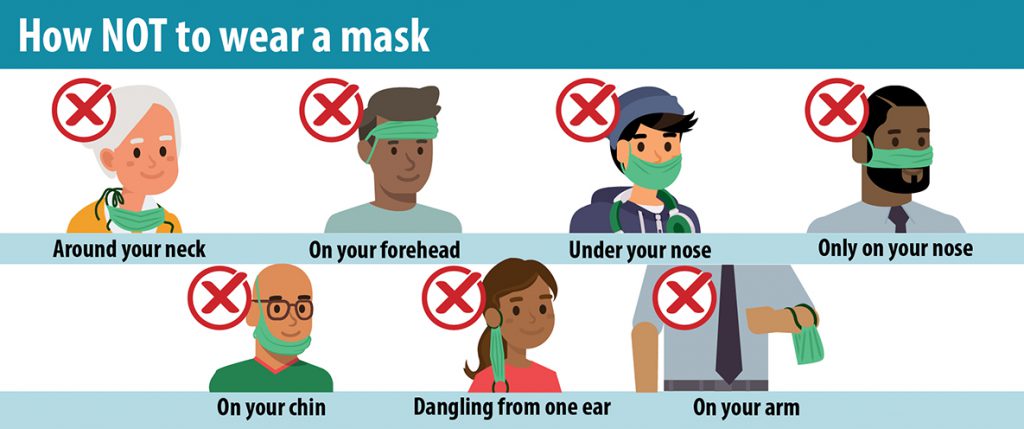 Shop Online When Possible
Limiting your exposure to other people is the best way to prevent spreading or contracting the coronavirus. And while the season of giving would normally require at least a few in-person visits to various shops and stores, we recommend being even more strategic about your holiday shopping this year. When possible, shop online for gifts. Most delivery services now offer contactless options, and not interfacing with others in a confined space substantially reduces your chances of spreading or coming into contact with COVID-19.
We know that not every local business is going to be able to offer online shopping this holiday season, and it's especially important to support small businesses this time of year. Ask about gift card/certificate options as a way around having to shop around inside a store. And if you do visit a local shop, try to pay with a credit or debit card — as opposed to handing cash to someone — to limit the amount of physical interaction required with employees.
For more tips and advice regarding COVID-19, visit our website or call the University of Maryland Medical System Nurse Call Line at 1-888-713-0711.