Peripheral artery disease (PAD) — also known as peripheral arterial disease — is a disease caused by a narrowing of the arteries due to a build-up of plaque atherosclerosis. It's not a commonly discussed condition, even though it affects upwards of 12 million people in the United States, so that's why September has been designated a Peripheral Artery Disease Awareness Month.
Peripheral Artery Disease Causes and Symptoms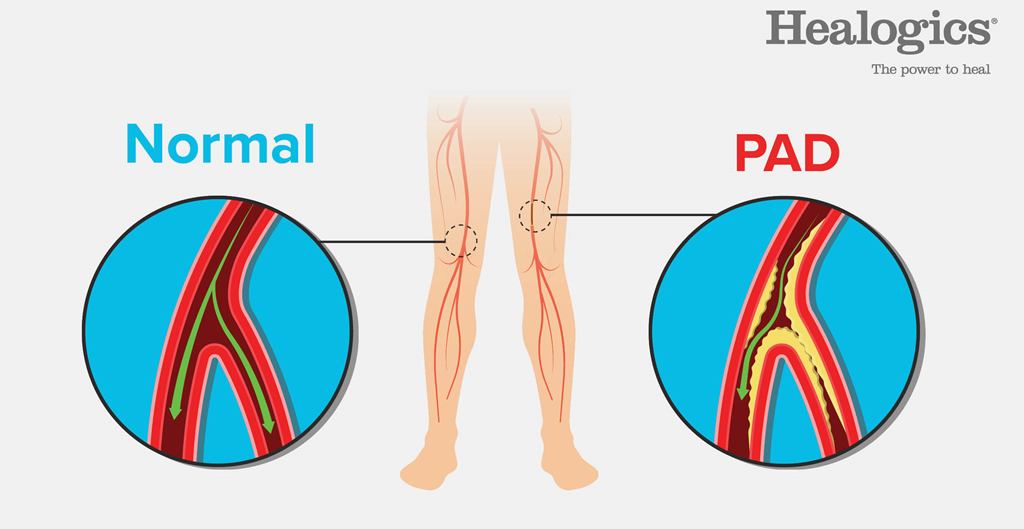 It's estimated that about 40% of those with PAD don't show any symptoms, but for those who do, they may experience any of the following:
Leg pain while walking

Muscle pain or cramping in legs and calves triggered by activity

Leg numbness or weakness

Coldness on lower leg or foot

Change in color of legs or feet

Sores on toes, legs, or feet that won't heal

Toenails that don't grow as well as they used to

Noticeably slower walking speed or distance
Risk Factors
It's estimated that 20 percent of people over the age of 65 have PAD today. And although aging is one of the most important factors for developing this disease, the following also contribute greatly to an individual's level of risk:
Smoking (those who smoke have a four times greater risk of developing PAD)

Diabetes (one in every three people with diabetes over the age of 50 is likely to have the disease)

High blood pressure

High cholesterol

A history of vascular disease, heart attack, and stroke
Potential Complications
The symptoms outlined above may not be especially worrisome on the surface, but the real damage this disease does comes from how it impacts a person's ability to heal from a wound.
People who have PAD will often have a more difficult time with sores and cuts that don't heal (called chronic wounds) due to reduced blood flow to their extremities. Because of this, PAD is associated with amputation. That's a sobering result of this disease, especially when you consider that nearly 55 percent of people who have a limb amputated will die within five years of amputation, according to Healogics.
Resources and Treatment Options for PAD-Related Chronic Wounds
The good news is that complications from PAD, such as chronic wounds that lead to limb amputations, can be prevented with proper care and guidance.
For those with diabetes, meeting regularly with a certified diabetes educator can help put you on the right track to living well with diabetes. A diabetes educator can help you learn everything from how to use blood sugar meters to how to better manage your weight, and they can also help with referrals when necessary.
If you're dealing with a chronic, non-healing wound, you may need the help of a wound care specialist. In Charles County, our award-winning Center for Wound healing employs advanced treatments to help wounds heal more completely and quickly. And for someone with PAD, this could mean the difference between having to get an amputation and being able to live a more fulfilling life. To learn more about the UM Charles Regional Center for Wound Healing, call (301) 609-7701 today.