Did you know that, every year since 2005, the week of December 1-7 has been designated as National Influenza Vaccination Week by the Centers for Disease Control and Prevention (CDC)?
If the fact that it takes place so late in the year strikes you as surprising, you're not alone. But there are some really important reasons why the CDC and its partners highlight the need to get the flu shot as we head into winter — and some good reasons why everyone should pay attention.
Why Now?
You might be thinking to yourself, "if you haven't gotten the flu shot by now, why bother?" 
It's probably a common question because, according to the CDC, flu vaccination rates usually trend downward near the end of November. This is because people start getting busier with the holidays and many people even overlook just how common the seasonal flu is during the month of December and beyond.
Don't believe us? Take a look at the chart below, which highlights the months in which peak flu activity was observed from 1982 through 2018. You can see that things really start picking up right around December.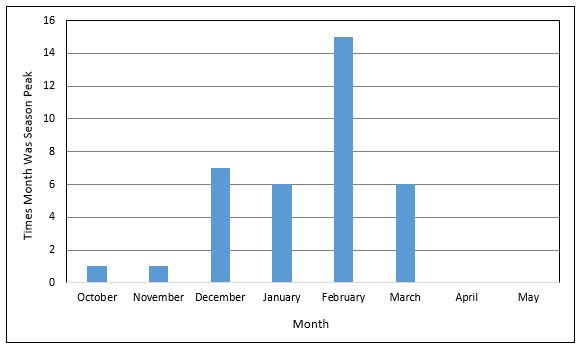 (Chart source: CDC)
What this means is — if you or someone you know hasn't yet received their seasonal flu vaccination — it's not too late!
As more people come together for the holidays, the likelihood of spreading or catching the seasonal influenza virus is greater than ever. And even if you don't want to get vaccinated for yourself, you should do it (assuming you're medically able to do so) to protect those around you who may have a compromised immune system.
What if I've Already Gotten the Flu?
You can and should still get the flu vaccine! Since there are a variety of influenza virus strains that are spread every year, there's no way to tell which strain you were previously infected with. And the seasonal flu vaccine may be able to help protect you from other strains.
Where to Receive the Seasonal Flu Vaccine
If you live in Southern Maryland, there are several places you can turn to for the seasonal flu vaccine for little or no cost to you.
Many local stores and pharmacies offer walk-in clinics where standard vaccinations are offered. You can also visit your primary care physician, who can administer the shot for you. Don't have a primary care doctor? Visit our website to learn more about UM Charles Regional Medical Group – Primary Care in La Plata, and call (301) 609-5044 to schedule an appointment.
Don't have insurance or worried that it won't cover the full cost? The Charles County Department of Health offers free walk-in flu vaccinations from 8 a.m. to 4:30 p.m. on weekdays. Its office is located at 4545 Crain Highway, White Plains, MD 20695.