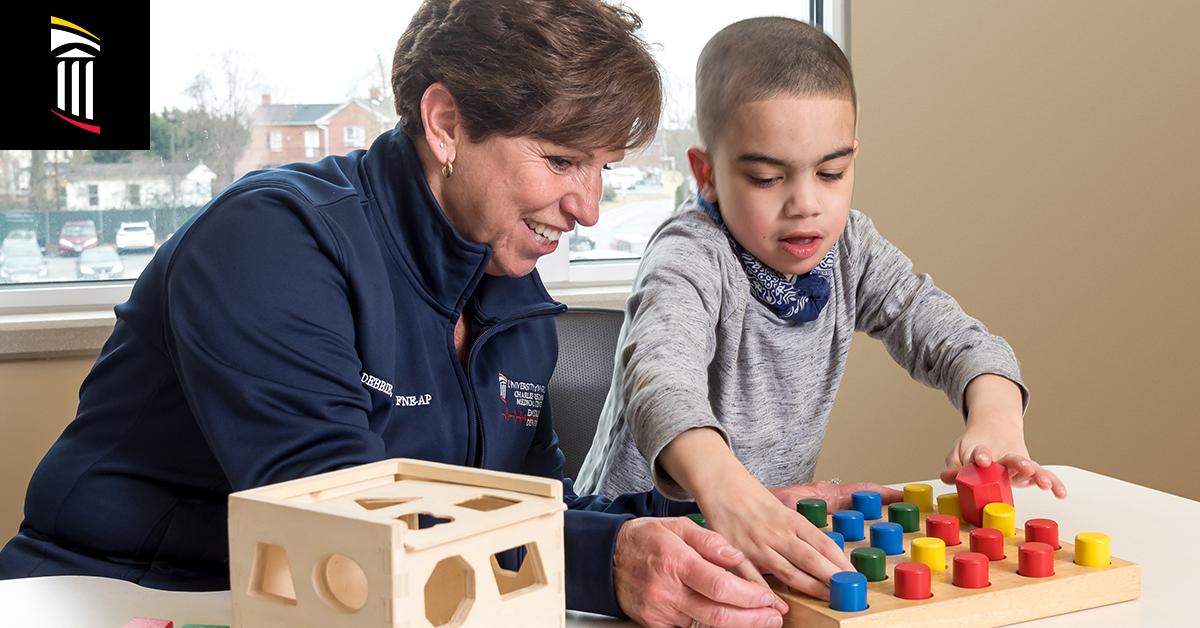 In January 2018, a typical afternoon took a frightening turn for the Bean family of Waldorf, Maryland. Chris, a police officer, had picked up the couple's older son, Jake, 13, from school. And Kimberly, a real estate agent was driving their 7-year-old son, Xavier, home.
Kimberly glanced at Xavier in the rearview mirror and saw his eyes blinking.
"I thought he was smiling at first," she said. "I couldn't figure out what was going on. Then I turned my whole head around and looked at him, and I could see that he was having a seizure. It scared the heck out of me."
Kimberly pulled the car over, rushed to the back seat and called her husband, who requested an ambulance through the police dispatch.
Within minutes, Xavier and his parents were at the Emergency Department (ED) of UM Charles Regional Medical Center (UM CRMC).
"They took him in, and it was like something out of a movie or TV, where all the doctors and nurses just swarm in and they're taking turns at checking on things," Kimberly remembers. "But with Xavier, it was super challenging."
Xavier is autistic and nonverbal; he is also intellectually disabled and developmentally delayed.
Xavier needed a CT scan to look for abnormal growths, blood and urine tests, and a spinal tap to rule out meningitis, encephalitis, and bleeding in the brain, as doctors tried to get to the root of his seizure. After several hours, the family left the ED with a referral to a neurologist — and nothing but gratitude for UM CRMC's doctors, nurses and staff.
"It was an exhausting day, but we were pleased they went through the whole gamut of tests," Kimberly said. "They accomplished so much and did so with incredible patience and compassion."
A Commitment to Care
Providing such service is an everyday occurrence at UM CRMC's Department of Emergency Medicine.
"Coming out of a seizure is very confusing for any patient," Richard Ferraro, MD, chief of medical staff at UM CRMC, and chairman and medical director of the Department of Emergency Medicine, said. "That's a time where patients can be combative, extremely emotional, and very confused. It's really important to show patience and perseverance because you really do need to get the work-up done and to not give up because the patient isn't able to understand everything. It takes a special type of disposition to do that."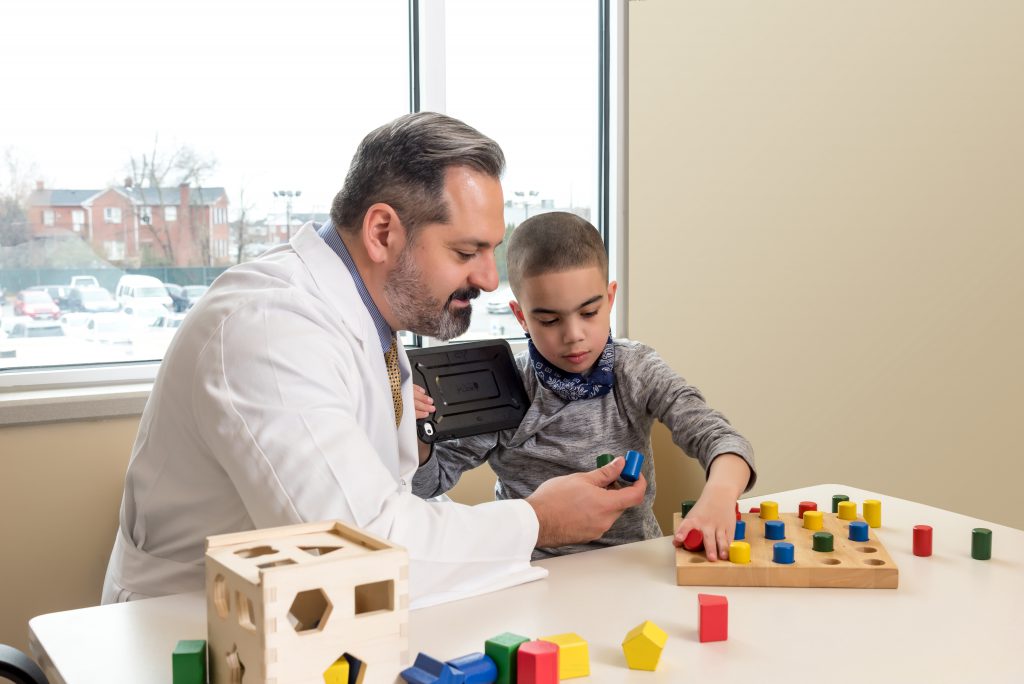 The emergency medicine team is well-equipped for these situations. Doctors and physician assistants train with children of all ages and see them on a daily basis. In fact, children represent 15 to 20 percent of the patients who come through the doors of the ED, Dr. Ferraro noted. The department also relies on a team of nurses with extra training with pediatric patients whom they can call on when a child with special needs comes to the hospital.
"Your mindset changes when you are dealing with a child, especially one with a seizure or cognitive impairment," Melissa Sager, RN, one of the emergency medicine nurses on duty the day Xavier was taken to the hospital, said. "These children are so sensitive to everything around them. If you show that you're scared or nervous, they can really feel those emotions from you. We try to stay calm and confident and work with the parents to make sure they understand everything we're doing."
"Our ED is focused on our community members and committed to providing the best care," Debbie Shuck-Reynolds, MSN, nurse manager of the Department of Emergency Medicine, said. "The one aspect about our team that I find endearing is the concept that we care for each of our patients as if they were our own family member. Everyone is entitled to the best care, and that is what we strive for every shift."
A Second Scare
Unfortunately, the Beans' ED visit was not the end of the story. At another medical facility, Xavier underwent an electroencephalogram, or EEG — a test to detect abnormalities in a patient's brain waves.
But before they heard back from the neurologist there, Xavier experienced another seizure, and once again, the Beans headed to UM CRMC. It happened on the drive home from school in virtually the same location. The Beans think this may have had to do with the pattern of light through the trees creating a strobe effect. Strobe lighting is associated with triggering epileptic seizures in some patients.
"I wasn't as frantic that time," Kimberly said. "But I wanted answers. We were anxiously awaiting test results when Xavier's second seizure occurred."
While Xavier was under observation, UM CRMC doctors called his pediatrician to get insights into his medical history, asked his parents more about his health and behavior, and tracked down the neurologist who evaluated him.
The tests revealed abnormal brain activity that pointed to epilepsy.
"We were so impressed with the doctors at UM Charles Regional," Kimberly said. "They realized that we weren't trying to be difficult. We were just very concerned and felt like we weren't getting answers. They were on a mission to help us."
"For all patients, our job is to do good detective work reviewing records, talking to other physicians involved in their care, doing a medical history and physical while the patient is there, and then synthesizing all that data and trying to make the right plan," Dr. Ferraro said. "In the meantime, you're treating whatever acute condition they have and stabilizing them."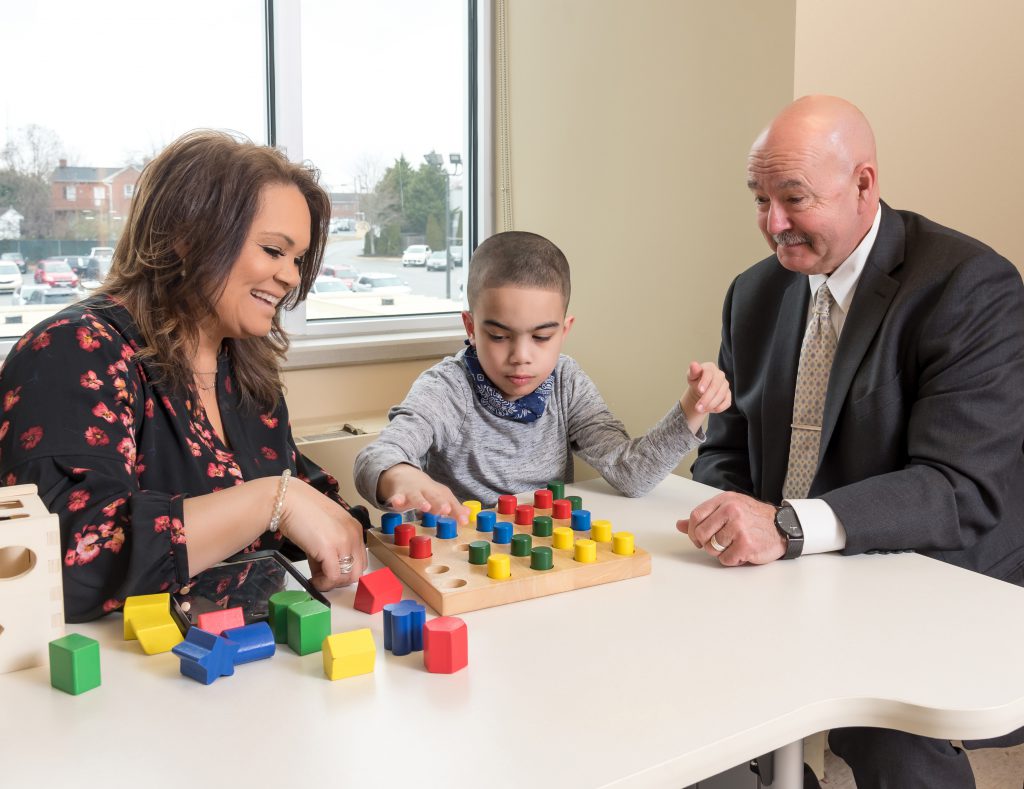 Adjusting to a New Diagnosis
Thanks to the persistence of the ED staff, the Beans finally got a diagnosis and Xavier was started on anti-seizure medication. He has done well on the medicine, but last fall he had several small "breakthrough" seizures, which doctors attributed to growth spurts.
"The dose of his medicine had to be changed," Chris Bean said. "He is now at the maximum dose allowed for his height and weight."
Now the Beans are breathing a little easier and things are back to normal in their household, particularly the joy that Xavier brings to it.
"He's a loving boy," Chris said. "He doesn't exhibit classic autism in the sense that he doesn't want to be touched or he's antisocial. He's very engaging, and he loves physical touch like wrestling and being tickled."
Like many people with autism, Xavier craves routine, especially in his nighttime ritual. After dinner, he takes his mom and dad by the hand and goes upstairs.
"We have about a 40-minute snuggle session where we get to watch his shows together up in our
bed," Kimberly said. "It's the same every single night, so he loves that. He doesn't speak, but you can see this little grin on his face when he's happy. When we are all together, it seems like the world is right to him."
While Xavier's newest diagnosis is distressing, the Beans are taking it in stride.
"We were told he has to go to the ED if the seizure lasts more than five minutes, or if he falls and has trauma to his head, or if he has two separate seizures within five minutes," Chris said. "Luckily, he's been seizure-free for several months."
Chris and Kimberly are comforted that UM CRMC's Emergency Department has their back if problems occur.
"I can't say enough about UM Charles Regional," Chris said. "The level of care and professionalism are just top-notch. You can just tell that these people are dedicated to making a difference."
"It's important for parents to know we did everything we could for their child," Melissa Sager said. "Their child is their life. To know we had a positive impact on the Beans is really wonderful."
This story originally appeared in the spring issue of Maryland's Health Matters, the official magazine of the University of Maryland Charles Regional Medical Center. For more stories from this issue, visit our website. And stay connected with your local hospital by following UM Charles Regional on Facebook.