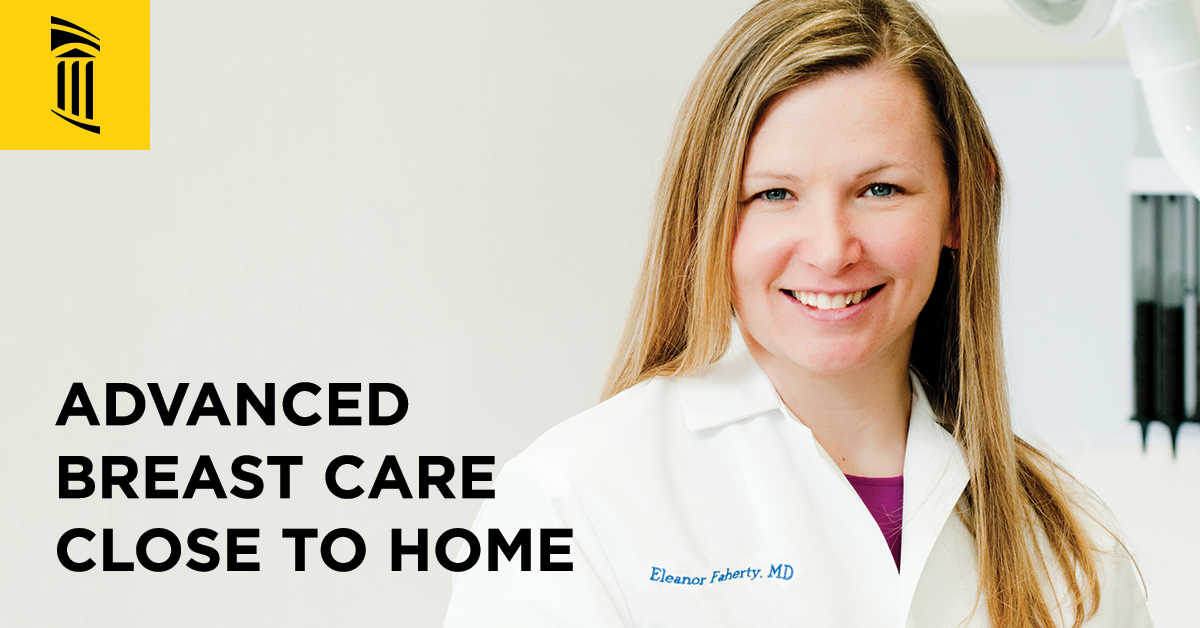 The mission of the University of Maryland Medical System in Southern Maryland has always been to provide members of our community with essential health care services in nearby locations. We believe that everything from hospital services and surgical care to physical rehabilitation and primary care should be no more than just a short drive away. And now, we're excited to announce that high-quality breast care is available closer to home than ever.
Eleanor Faherty, MD, FACS, combines advance techniques and a compassionate approach to provide greater outcomes for patients with breast health issues — all in a convenient Waldorf, MD, location.
About Dr. Faherty
A graduate of Albany Medical College and an Iraq War veteran, Dr. Eleanor Faherty has become one of Southern Maryland's most respected and recognizable health care professionals. You can learn more about Dr. Faherty's background, education, affiliations, and certifications on her profile on our website.
Specialities and Services
As one of the region's foremost practitioners of breast care, Dr. Faherty specializes in a variety of services, including:
Breast Surgery
Plastic and Reconstructive Surgery
Pre- and Post-Surgery Rehabilitation
Genetic Counseling
Supportive Care
Patient Education
Support Groups
Medical Insurance Options
Dr. Faherty's practice proudly accepts most major insurance plans. Please contact your medical insurance provider to find out if your procedure qualifies for insurance coverage or financial assistance. You can also call (410) 328-7320 to find out what plans are accepted.
Office Location and Scheduling an Appointment
Dr. Faherty's office is located at the address below (click here to get directions):
11340 Pembrooke Square, #203
Waldorf, MD 20603
Ready to learn more or schedule your appointment? Simply call (301) 609-6363 today.