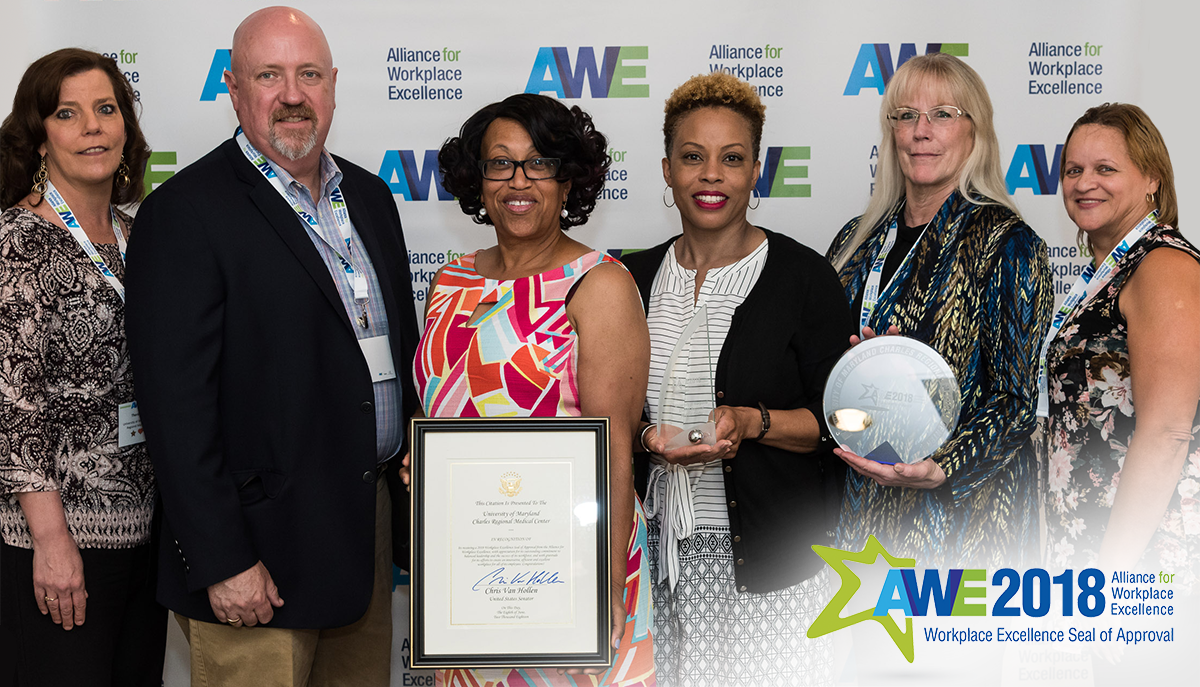 We understand that providing great health care is only possible with the help of a talented team of professionals. And that's why we've dedicated so many resources to make UM Charles Regional Medical Center a place where team members can thrive as they help others in their community enjoy healthier lives.
That's why we're so humbled to announce that our hospital has once again received the Workplace Excellence Seal of Approval award and the Health & Wellness Seal of Approval award from the Alliance for Workplace Excellence (AWE). The hospital was also recognized with its first-ever EcoLeadership award.
These awards underline our ongoing goals to create a working environment that emphasizes professional and personal growth. In addition, the EcoLeadership award, in particular, is proof of the University of Maryland Medical System's commitment to establishing environmentally sustainable workplaces and making efficient use of its resources.
Every year, AWE selects organizations for these designations based on a comprehensive assessment process that's led by an independent review panel. This panel is comprised of a diverse group of professionals and graduate-level students who are leaders in the fields of business, psychology, human resources, environmental science, public health, diversity, and wellness.
This represents the 14th consecutive year that UM Charles Regional Medical Center has earned the Workplace Excellence Seal of Approval and the 12th year that it's received the Health & Wellness Seal of Approval. But while we are honored by these awards, we understand that there's always work to be done, and, as always, we remain focused on promoting diversity, a healthy work-life balance, and open employee communication. After all, it's the best way to ensure Southern Maryland is a great place to work and live.