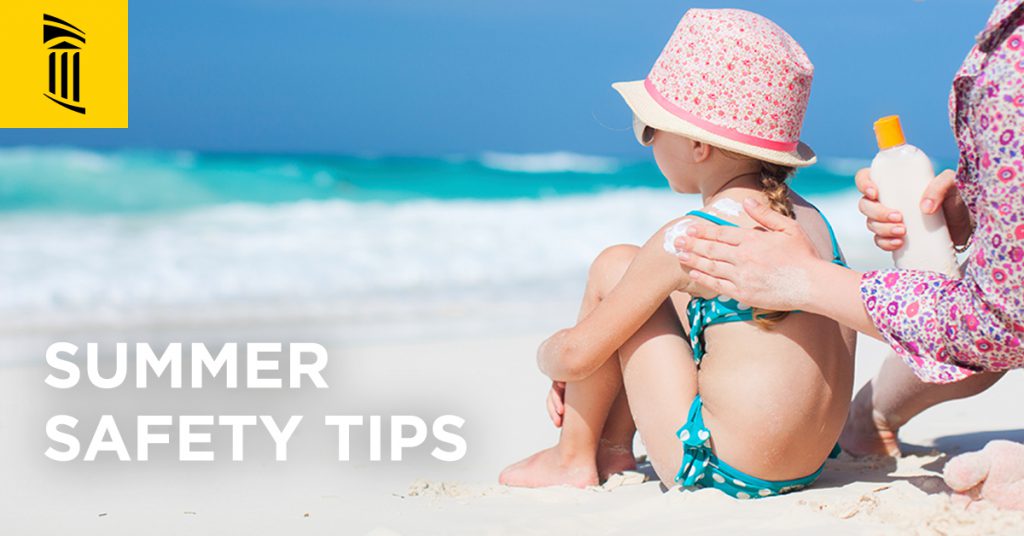 The summer is the best time of the year for many people. Heading to the beach or just heading outside to enjoy everything the warm, sunny weather has to offer is something most of us have been waiting for since the end the holiday season.
Even with all the fun activities and happenings that the season brings us, however, there are a few things that can quickly derail your plans. But with some planning and common sense, you'll be ready for an unforgettable summer ahead.
How can you make sure you stay safe and healthy this summer? Here are 7 essential tips to avoid injury or illness:
Stay in the Shade and Get That Sunscreen Ready
Skin cancer is the most common form of cancer in our country, and the American Cancer Society notes that more skin cancers are diagnosed in the U.S. every year than all other cancers combined. Even more startling is the fact that the number of skin cancer cases has been trending upwards.
Don't be another statistic. Protect yourself from overexposure to UV rays produced by the sun by wearing a hat, slipping on a shirt, putting your sunglasses on, staying in the shade, and, most importantly, applying sunscreen. Apply sunscreen with an SPF value of 30 or higher at least 30 minutes before you head out the door, and don't forget to re-apply every two hours to give yourself maximum protection.
Choose Water. Stay Hydrated.
Without water, your body's ability to maintain the right blood pressure, deliver sufficient oxygen and nutrients to cells, or to rid itself of wastes is inhibited. For most, that means discomfort like cramps or headaches. But if you're not careful, dehydration can ultimately lead to heat exhaustion or even heat stroke.
Drink plenty of water before you head outside and bring extra with you to replenish your body along the way. Avoid alcoholic, caffeinated, or sugary beverages as these can ultimately have the opposite effect.
If you're planning on exercising outside, the American Council on Exercise recommends drinking 17-20 oz. of water two hours before you start exercising and then 7-10 oz. more every 10-20 minutes during exercise.
Know the Warning Signs of Heat-Related Illnesses and Injuries
Knowing the signs of a heat-related illness or injury is the best way to protect yourself and others. Some of the telltale signs of heat-related illnesses include:
Cramps
Moist, Pale Skin
Headaches
Dizziness
Nausea
Heavy Sweating
Rapid Heartbeat
Dark Urine
Be Aware of Those Around You
Some of the most vulnerable to extreme heat during the summer are the elderly and disabled. Pay attention to those around you — your friends, family, neighbors or just anyone who you think may have difficulty getting help on their own. Pick up the phone and check in with older members of your family or your community, or simply stop by to check on those who require extra care and attention.
Keep Your Kids Safe at the Playground
The playground is the perfect place for your kids to get some exercise and enjoy the sun during the summer. Unfortunately, it's also the place where thousands of injuries occur every year. In fact, the Centers for Disease Control and Prevention (CDC) reports that 200,000 children are hospitalized every year in the U.S. for playground-related injuries, including traumatic brain injuries.
Keep a close eye on your kids while they're playing, and give your playground a quick inspection before letting your kids play to help prevent these sorts of injuries. Look for things that might be tripping or falling hazards, and be sure to read any playground signs posted to ensure the equipment is suited for your child's age.
Choose the Right Helmet to Prevent Head Injuries
If you or your kids are getting out to enjoy a bike ride, play baseball, or take part in some other summer sport, you'll want to make sure you pick the right helmet to reduce the risk of concussions and other head injuries.
A person's helmet should be well maintained, appropriate for their age, and designed for their specific activity. The CDC has fact sheets for nearly every helmet you'll want to wear this time of year, so you'll always know what you should be looking for.
Find the Right Times to be Outside
While the best part of summer is being able to go outside whenever you want, one of the best ways to avoid dehydration, sunburns, illness, or heat-related issues is to choose the right times to stay indoors.
It's hottest in the middle of the day and often when it's most humid, too, so you may be better off going out earlier or later in the day. You'll also want to think about when mosquitos and other bugs are most active to avoid contracting Zika, West Nile virus, or other insect-borne diseases.
Want to learn more about staying safe during the summer? Visit the CDC's website for its "Make Summer Safe for Kids" guide.