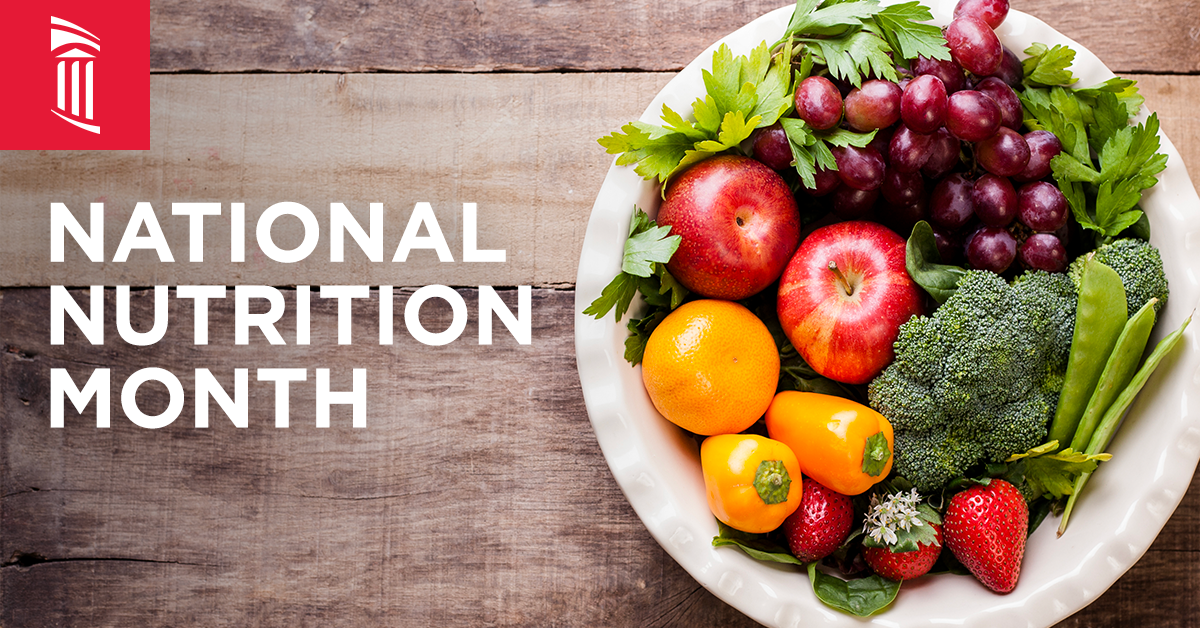 Whether you were resolved to eating better in the new year or you're always on the lookout for ways to live better, National Nutrition Month is a great opportunity to recommit yourself to choosing the right foods and beverages for yourself and your family.
Although the amount of advice and tips you'll find on the internet for eating better is endless, here are five things you can do right now:
Focus on the Nutrition Facts Label
Nutrition facts are on nearly every package of food sold in grocery stores in the U.S., but do you know how to decipher the information on them?
From serving sizes to daily values, the facts and figures listed on every nutrition facts label will be your guide throughout National Nutrition Month and beyond. It'll help you better understand which foods are giving you the nutrients you need and which ones are just giving you the extra calories you don't.
Check out this great guide from the Academy of Nutrition and Dietetics if you need some guidance on that little label.
Avoid Fad Diets
It may be tempting to try the latest and greatest diet that people all over social media seem to be raving about. What these posts, articles and videos don't tell you about these "fad diets" is that they're quite often ineffective at helping you eat better and lose weight in the long term.
Sure, you might lose weight over the next several months as you totally eliminate carbohydrates or some other nutrient. But you'll likely find that keeping the weight off and sticking to the diet beyond that is a much harder thing.
Focus more on health and less on weight by employing a diet that's full of variety — nutrient-rich foods that contain the proper balance of proteins, carbohydrates, fats, vitamins and minerals. You'll find that portion control and moderation are more important to long-term health than any "fad diet" could be.
Keep Nutrient-Rich Snacks Nearby
If you're a habitual snacker or just find yourself getting hungry between meals, you know how easy it is to turn to unhealthy snacks like chips, cookies and crackers.
Toss out those empty-calorie snacks at your desk or home and replace them with alternatives such as nuts, berries and veggies. They'll curb your cravings and help you get the vital nutrients you need throughout the day.
Cut Back on Salt, Added Sugars and Solid Fats
We're not saying you have to totally eliminate bad foods from your diet, but taking steps to reduce the amount of sodium, added sugars, trans fats and saturated fats can go a long way.
For example, instead of drinking soda or juice, opt for water. Or rather than eating sausages and high-fat beef every time you grill, choose meats like chicken or lean pork. You might be surprised by the difference a few small changes can make to your overall health.
If you're someone who's been diagnosed with diabetes, it's even more important to keep these things in mind. Our Center for Diabetes Education is here to help you make smarter, more effective dietary choices so you can live better with diabetes. Visit our website to learn more or to schedule an appointment.
Drink Coffee
Yes, you read that correctly. Although research is still being conducted to discover the health benefits of drinking coffee, several studies have already shown that consumption of coffee has positive effects on wellness.
From protecting against type 2 diabetes and cardiovascular disease to lowering risk for developing Parkinson's disease and depression — coffee has emerged as a potential super drink. As with anything, however, drink it in moderation!
Want to get more nutritional advice and tips? We're proud to offer expert diet and nutrition services at UM Charles Regional Medical Group – Primary Care in La Plata and at UM Charles Regional Medical Group – Diabetes & Endocrinology in Waldorf. Visit our website to learn more about how our team's registered dietitian can help you make the most of National Nutrition Month.