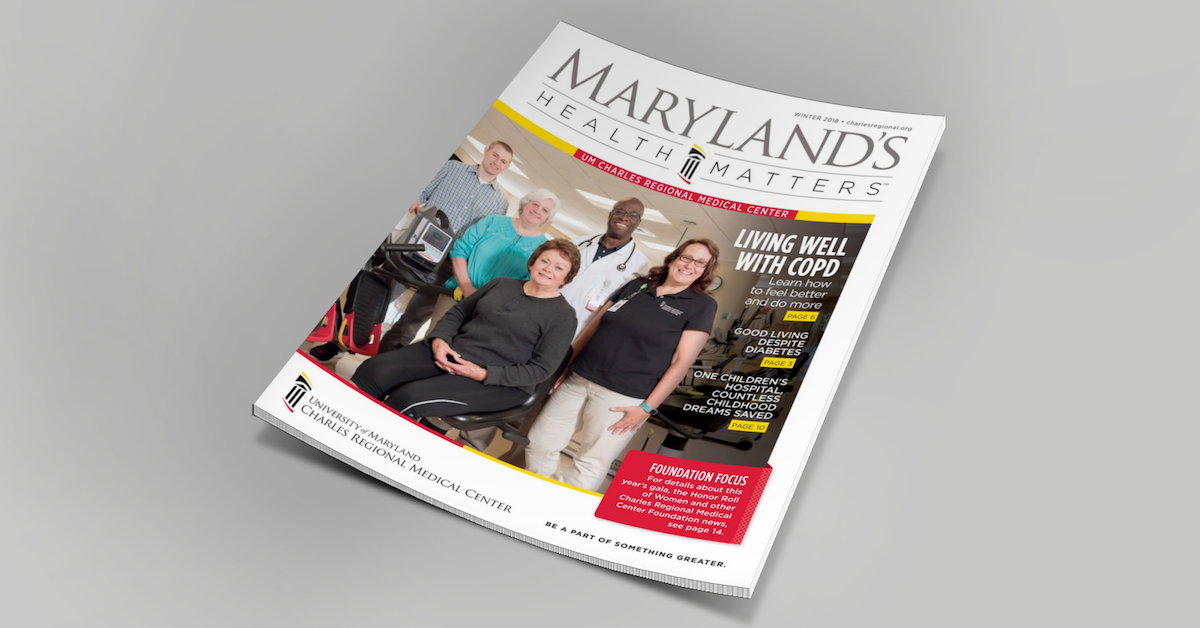 If you're in search of the latest news, updates and information regarding the state of health and wellness resources in Charles County, we have a free magazine you'll definitely want to check out.
Maryland's Health Matters, the official quarterly magazine of the University of Maryland Medical System, is the perfect companion to all of the information and resources you can find on our blog and our website.
The University of Maryland Medical System understands that community wellness needs and preferences vary by geographic region, so they publish an edition specifically for Charles County. It's all part of our mission of helping you make informed health care decisions for yourself and your family.
Here's a look at just some of the topics covered in this new issue:
Living Well with COPD – Learn more about what causes COPD, how it can be managed and what resources are available to Charles County residents who have been diagnosed with it.
Overcoming the Daily Hurdles of Diabetes – Get some easy-to-follow tips from our team about how you can live better after a diabetes diagnosis.
Foundation Focus – See what the Charles Regional Medical Center Foundation has been up to and get a preview of the upcoming Celebration Gala event.
University of Maryland Children's Hospital Highlight – When kids get sick, the experts at the University of Maryland Children's Hospital are there to help. This highlight examines how this specialized hospital provided personalized, compassionate care for three such kids so they could have healthier childhoods.
The latest issue of Maryland's Health Matters is available online 24/7, so click or tap right here to start reading the latest issue now.