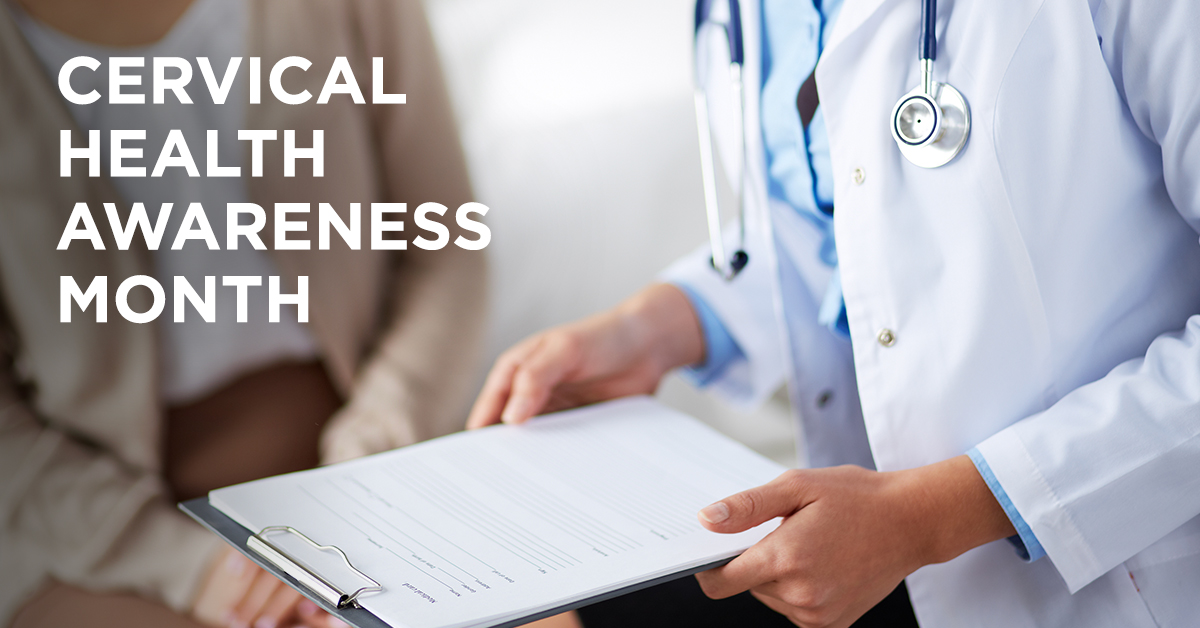 You've probably heard about cervical cancer from your doctor, the news or just someone you know. But how much do you know about this form of cancer?
Take some time this January to learn more about cervical cancer, its causes, its treatment options and preventative measures you can take to reduce your chances for developing it.
What is Cervical Cancer?
Cervical cancer is a cancer that starts in a woman's cervix, which is located on the lower end of the uterus.
What are the Contributing Causes of Cervical Cancer?
Your doctor will be able to help you determine your risk level for developing cervical cancer, but there are a few things to know that will help you better understand your individual risk.
The human papillomavirus (HPV) is one of the leading causes of cervical cancers. Other risk factors include:
Smoking
Having HIV or another autoimmune disorder
Having given birth to three or more children
Having several sexual partners
Using birth control pills for a long time (five or more years)
HPV is one of the most common STDs in the U.S. It's so prevalent, in fact, that the CDC notes that most people will contract it at some point in their lives. Fortunately, HPV often goes away on its own over time, and vaccines do exist for it.
Is it Preventable?
Cervical cancer was, at one time, among the most common causes of cancer deaths for American. Today, cervical cancer is actually one of the most highly preventable cancer types in the U.S. as a result of the screening tests and HPV vaccines, according to the CDC.
Although early symptoms and warning signs for cervical cancer are rare, screenings can help doctors detect presence of pre-cancers before they become invasive cancers. A pap test or "pap smear," as it's often called, has been proven effective in detecting the disease before it becomes life threatening.
Additionally, HPV tests and vaccines are available to help detect and/or prevent infection of HPV-16 and HPV-18, which are the two strains that are responsible for the vast majority of all cervical cancers.
The American Cancer Society recommends that routine HPV vaccination for girls and boys should begin at age 11 or 12, but your doctor may recommend it get started as early as age 9. While this may seem like a young age to receive a vaccine of this type, the American Cancer Society notes that HPV vaccines produce the strongest immune responses in preteens.
What are the Treatment Options?
Currently, there are no treatments available for HPV, but many genital HPV infections go away with the help of a person's immune system within two years.
Should you be diagnosed with cervical cancer, however, a variety of treatment options exist. Which treatment(s) you ultimately utilize will vary depending on the stage of the cancer has reached and based on recommendations from your health care provider. The most common treatments for cervical cancer include surgery, radiation therapy, chemotherapy and targeted therapy.
Want to learn more about cervical cancer this month? Be sure to visit the National Cervical Cancer Coalition website for more information and to find out how you can get involved in spreading awareness all month long. And if you'd like to schedule a preventive screening, checkup or appointment with a women's health expert, contact UM Charles Regional Medical Group – Women's Health in Charles County today.