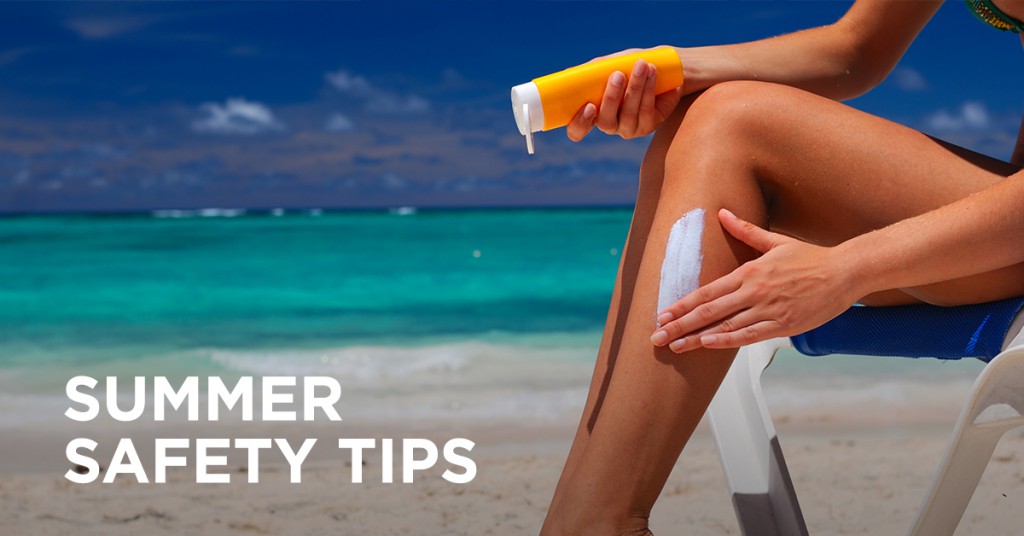 With great weather and all sorts of fun activities going on, it can be easy to forget about taking the necessary steps to stay safe during the warmest months. But if you don't want to let any heat- or sun-related illnesses or injuries derail your plans this summer, here are five tips worth following:
Apply Sunscreen Regularly
The number of skin cancer cases is rising every year in the United States, and, according to the American Cancer Society, exposure to ultraviolet (UV) rays is the biggest reason why. You can combat the harmful effects of UV rays by applying sunscreen with 15 SPF or better about 30 minutes before you head outside and at least every two hours once you're in the sun.
If you have children, our Online Health Library has some great tips on how to keep them protected in addition to sunscreen.
Stay Hydrated Throughout the Day
When your body loses too much water, it's less able to maintain adequate blood pressure, deliver sufficient oxygen and nutrients to cells and rid itself of wastes.
Going to be outside for extended periods of time? Make sure to bring plenty of water to replenish yourself throughout the day. Avoid alcoholic beverages or any drinks containing caffeine because these often have a diuretic effect.
If you're going to be exercising outside, the American Council on Exercise recommends drinking at least 6-8 ounces of water for every 15-20 minutes of exercise, so plan accordingly, and be sure to properly hydrate yourself before you head out the door.
Choose the Right Time to Be Outside
One of the best ways you can avoid dehydration, sunburns and heat-related injuries is by choosing the right time to go outside. It'll be hottest during the middle of the day and when it's most humid. Consider going outside earlier or later in the day when the heat and the sun aren't so intense.
Listen to What Your Body is Telling You
More than anything, you need to pay attention to your body. On the hottest days, be aware of how your body is reacting to the weather to avoid heat stroke. Some of the telltale signs of heat-related illnesses include:
Check on Others, Especially the Elderly and Disabled
You can help others stay safe this summer, too. Pay attention to your friends and family to ensure they're doing okay out in the sun.
Give special attention to the elderly and people with disabilities — they're often more vulnerable to high temperatures and may not be able to get help without someone intervening. Stay in touch with older members of your family and regularly check on those who often require extra care and attention.