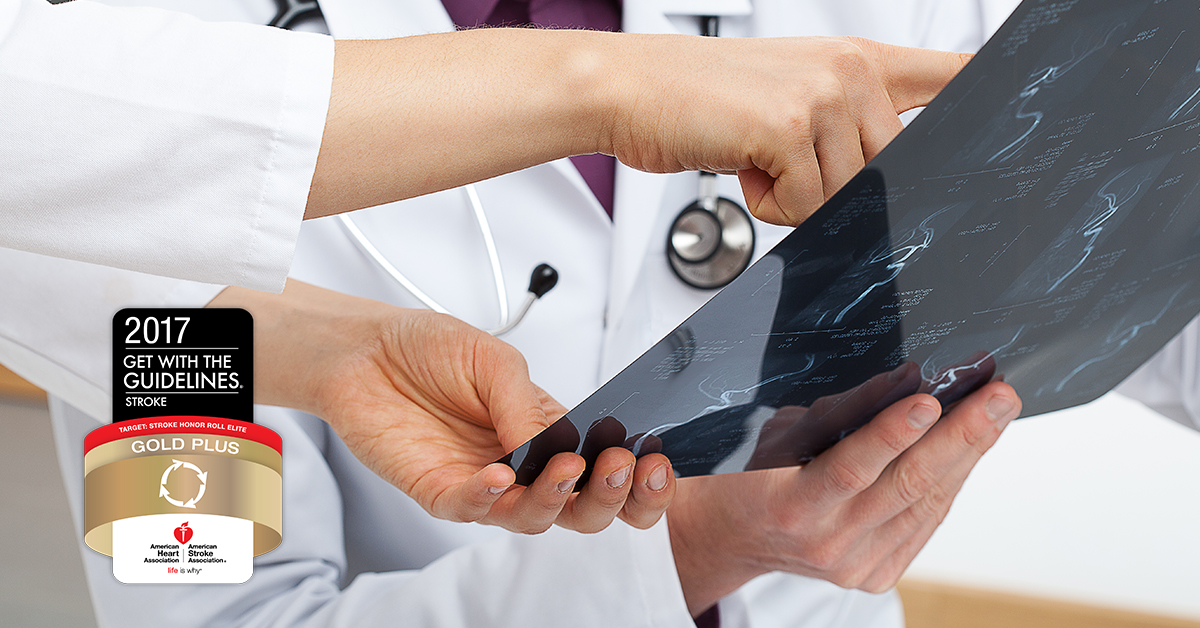 We're proud to announce that UM Charles Regional Medical Center has once again been honored by the American Heart Association and American Stroke Association for excellence in treating stroke patients.
Recognized with a Gold Plus Quality Achievement Award and a Target: Stroke℠ Honor Roll Elite designation as part of the Get With The Guidelines-Stroke® program, our hospital has continued to provide quick diagnoses and prompt interventions for patients suffering from strokes.
Which hospitals receive these designations?
Hospitals that receive a Get with the Guidelines Gold Plus Achievement Award and an Honor Roll Elite Designation have reached a high standard of treating stroke patients with 85 percent or higher compliance to core standard levels of care as outlined by the American Heart Association and American Stroke Association for 24 consecutive months. In addition, this recognition means that the awarded hospital has demonstrated that it meets stroke quality measures during the 12-month period.
These quality measures are designed to help hospitals follow the most up-to-date, evidence-based guidelines to speed recovery and reduce death and disability for stroke patients.
Why is speed so important?
Stroke is one of the leading causes of death and disability, but many of its long-term, most damaging effects can be avoided or minimized with immediate medical intervention.
What do these awards mean to the community?
We are so honored by this award because of what it represents for our community. As a Primary Stroke Center, we are committed to maintaining a heightened state of readiness for stroke patients so that we can deliver rapid, expert care when it's needed most.
About Get With The Guidelines®
Get With The Guidelines® puts the unparalleled expertise of the American Heart Association and American Stroke Association to work for hospitals nationwide, helping hospital care teams ensure the care provided to patients is aligned with the latest research-based guidelines based on the latest scientific evidence. Developed with the goal to save lives and hasten recovery, Get With The Guidelines programs have touched the lives of more than 6 million patients since 2001. For more information, visit heart.org.