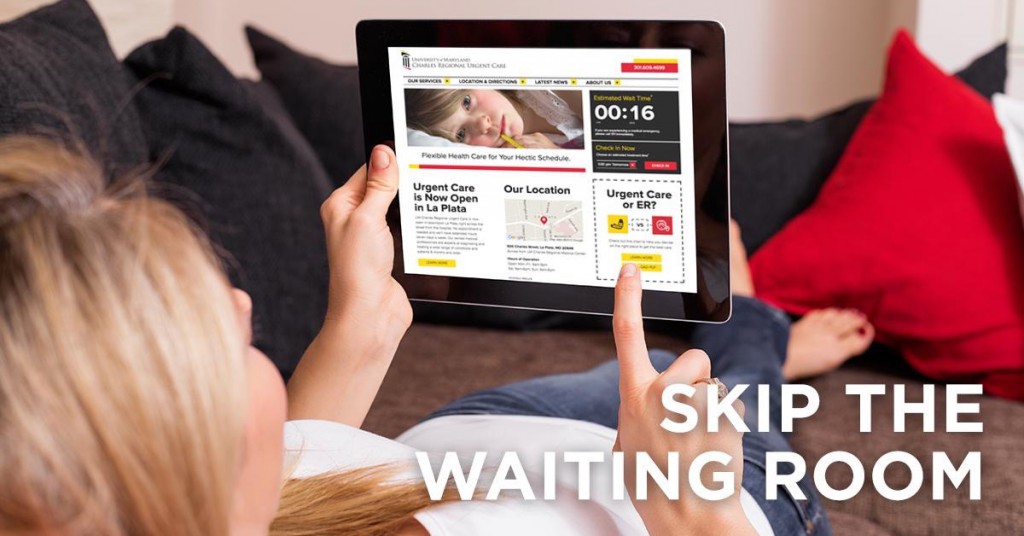 What if you could forgo the waiting room the next time you went to get treatment for an illness or injury?
At UM Charles Regional Urgent Care, now you can do just that.
If you visited the CharlesRegionalUrgentCare.com recently, you may have noticed that our website now features an estimated wait time tool to make planning your visit to urgent care even more convenient. This tool gives patients real-time updates on the estimated waiting time for treatment at urgent care.
We know that not everyone can fit in an urgent care visit into their busy schedule the moment injury or illness strike, so we're also making it possible to check in before you arrive at urgent care, even allowing next-day check-ins ahead of time. By choosing your estimated arrival time, you'll be able to receive priority care once you arrive.
Of course, no appointments are ever necessary at our new urgent care practice, but this new feature gives patients the option to wait for a treatment time from the comfort of home, rather than in a waiting room.
We understand that illness and injury are never convenient, so we're working to make sure that UM Charles Regional Urgent Care always will be.
Save